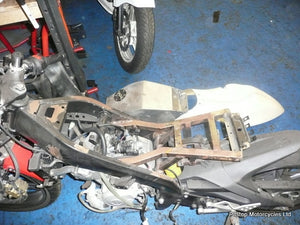 Yamaha YZF-R125 - The Beginning
We have a 2008 Yamaha YZF-R125 with less than 30 miles on the clock!
The bike was bought new in 2008 with the intention of making a 125cc track bike, the owner never finished the project and we have bought it with the intention of preparing it for the road again, then offering it for sale.
He rode the motorcycle from the shop and round the block then stripped it down. He has had the rear sub-frame removed and a new smaller one, to fit a race seat, welded on.
He also removed all the unwanted lugs and brackets. The Yamaha has the been dry stored since.
We have now bought another YZF-R125, 2008 bike, that the owner has slid off and damaged most of the plastics and exhaust, footrest etc. We will strip both bikes to build ourselves an almost new one. 
I have stripped the bike for the good unmolested frame and will rebuild it with all the parts off the bike that has done less than 30 miles.
The pictures below show the modified frame (with race seat and tank on the floor) and the progress so far with the new frame, at this stage all I have done is strip it to the bare frame, jet wash the frame clean and fit some new steering head bearings.
---