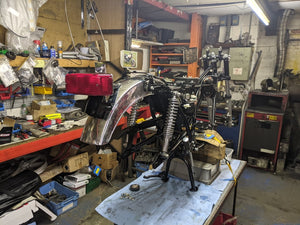 Yamaha RD400C Full Restoration - Assembly is going well
Assembly is going well, we have previously been fettling all the individual parts, bead blasting, painting ,plating, resealing bushing etc.
Making sure all the new bits like bearings, seals ,tab washers , fork stanchions ( are own) shocks, brake pads etc are ready and available to help the assembly.
swinging arm is fitted to the frame withe new bronze bushes (instead of plastic) yokes fitted to the steering head with new taper bearings, before fitting the reconditioned fork assemblies.
Rear mudguard is a new pattern one along with a new rear light assembly. 
Wheels are back from the chemical cleaners so its tyres are tubes next.
---