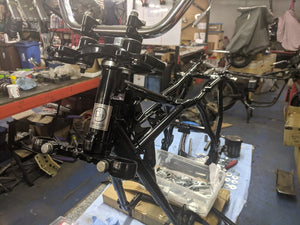 Yamaha RD400C Full Restoration - The Beginning
We have started to restore our RD400C  during 2020
Its a low mileage Matching numbers bike I have had for a few years.
I have stripped it down in specked all the parts and sent off the powder coating items and bits and bobs for plating.
The Engine has had a full reconditioned crankshaft, bearings ,seals and re bore with new Mitaka 0.5mm oversize pistons. (from Grampian Motors)
Cases were soda blasted and black satin stove cured paintwork applied to the relevant areas.
Some new genuine Yamaha 400C reed valves were found in Holland 
Ours new wiring looms have arrived so I have saved one for myself, nothing worse than a knackered loom.
All powder coating and zinc plating is back so rebuild can be started.
---