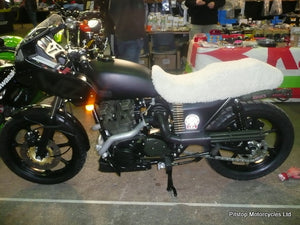 Wez Bike - Finished and at the Stafford show
Its done!, the pictures were taken on the Z-Power stand at the Stafford show.
The seat was covered in sheepskin by Colin Wilcox (but he says he wont own up to it if asked) 
I piped up a "napalm flame thower" through the centre of the Minigun exhaust and added "Nos" to the inlet manifold.
A "Pipe bomb" was added to the fairing along with some crossbow arrows. 
Wez's dog tag was fitted to the seat release, at this point Dave arrived to transport the bike (and stopped my imagination getting the better of me).
When we put the bike on the stand Dave added some bullet holes and then attached "condaleny's hand" to the back of the bike ( like in Mad Max 1) and we were set. 
The bike brought a lot of smiles to a lot of people and gave us a lot pleasure in its creation.
If we had more time the motor would have been finished and we could have ridden it, maybe I might finish it off and get it on the road one day, It depends if someone would like to buy it!
If I get enough interest or make any more bikes from films, it may start of a new venture "Screen Bikes" any Idea's let me know.
---