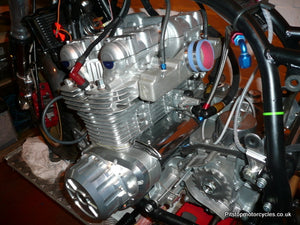 Turbo Kwack Special - The Beginning
This Bike was created by Dave at Z-power for his stand At last years Stafford show.
I helped him fit the ZXR upside down front end and the Honda single sided rear, as well as a frame strengthening kit at the time but some parts did not arrive in time so it went to the show as a non runner. It was at our open day in May if you came, next to the MFP Mad Max bike.
I now have to help him finish it off because some one fell in love with it and has persuaded him to sell it.
Dave gave me a large box of Z1R engine parts, lots of new shiny bits, a welded crank and all the parts he took off the show bike and said do you think you can build me the motor?
It has tested my resolve over the last  couple of months but its nearly done, I will post an update when its running.
---