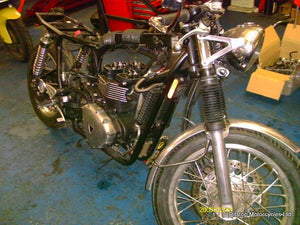 Thruxton Cafe Racer - The Beginning
Karen's damaged Triumph Thruxton is to be turned into a cafe racer.
Karen's affair with her Thruxton started in her home country of Canada, after deciding to live over here she organised shipping the bike over to use in our fair country.
Before she could get the bike here it got vandalised but this has not put her off, in fact she is now more determined to get the bike back on the road but in cafe racer trim.
Karen had seen the blogs of the W650 and the T140 Cafe racers that I had done previously  and came to see me about her plans for the Thruxton.
First stage was to "patch it up" so it would pass its SVA test for the UK. This was done with the help of a speedo from an RD250 a side panel from a CB250 dream and a few other quick fixes.
SVA test passed and the real work can start. Karen was introduced to "Unity Equipe" by Steve, an hour or so later an Alloy tank, classic headlamp, tailight and a host of idea's were on there way to me.
Karen's idea is to get the Thruxton on the road so she can use it before Summer has gone, this in mind we will do the bike in two stages. Seat and mudguard mods etc will be done after she has had some fun in July and August.


I have altered the tank by welding on a rear mounting bracket and  a new petrol tap mounting plate. This will allow me to use a rubber mounting system for the tank and the original Triumph petrol tap in its original position.
The top frame tube fits nicely in the tank tunnel (with the removal of some unwanted lugs and a bit of modification here and there) Some cut down large fork gaiters provide soft rubber frame buffers.
I will have to alter the wiring to fit under the top frame tube instead of on top.
I have taken care to allow the use of the original seat (Karen wants to change this for something more "Cafe" later) this will enable the bike to be used sooner.
Patched up for SVA test
Karen tells me how the new "Gas tank" should be fitted.
Thats where my RD speedo went.
New tank before welding
After welding.
Original tap now fits.
I knew I would find a use for those extra large fork gaiters
Tank now has a rubber strap on system. Front seat mount had to be cut off the old petrol tank.
Lines of tank and seat look good.
Nice view so far with tank, seat and headlamp mounted.
---