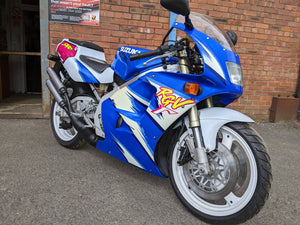 Suzuki RGV 250 R resto/refurb - finished
Finally I have got round to doing my 1994 RGV250 R
I have had the bike 10 year but have just stored it.
We removed the motor and stripped it for inspection.
It has done 30,000 miles so expected to find some wear and tear but it wasn't to bad, I couple of rough crank bearings and worn out pistons and a few marks in the nicosil liners.
so crank has now had a full rebuild and the bores have been fully reconditioned      ( new nicosil liners with new piston sets)  
We have had quite a few parts replated whilst re-assembling the bike and have fitted new bearings to wheels and suspension linkages etc.
New power valve cables and some new power valve parts fitted to ensure correct valve function.
Many new parts have been used ,Chain and sprockets replaced , new rear shock spring, fork seals etc etc, to many to mention or remember!
Bodywork has just had a thorough deep clean as it is very good, (a few little marks and a couple of sticker faults)
No major issues were found and all minor ones sorted, bike is now running well and has just passed its mot.   
So now its time to sell  as the riding position is not good for my neck or hips !!!!
(the joys of passing 60 ) 
Here are a few pic's of some of the work we did whilst refurbing.
Its not a complete diary as I keep forgetting to take pictures every day.
At last I
---