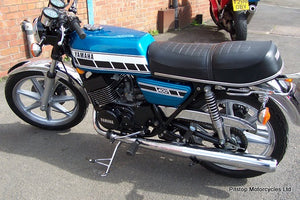 RD 400 Restoration - First Ride
Our Yamaha RD400c is very close to being finished.
I sneaked a quick ride on it today (only up to 5,000rpm) and it rides great!
Main jets were for K+N filters, so I will have to change them to match the standard air box and filter.
New sealed battery will be fitted tomorrow, this will give me room to fit the Piranha ignition unit in the same space as the battery.
This will also prevent any future acid spills/stains.
Dave is painting the side panel and we await its return.
---