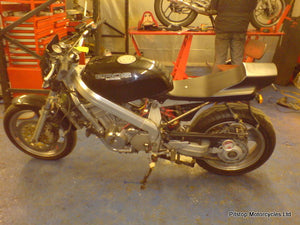 RC31 Flat Tracker - Street/flat tracker progress
The new rear sub frame has been crafted by Paul to incorporate the XR750 style seat unit,
A new battery box has been made, a few more brackets and pipe/cable work to make everything fit then Colin can have the seat base for foam and vinyl.
Next is to cut the side panel lugs off the tank, cut the front mudguard down to as small as possible, design colour scheme and then paint.
Les says it has to be Harley Orange so Orange it is. 
---