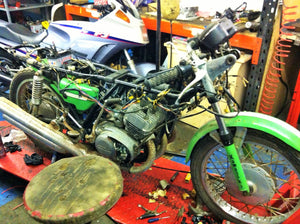 Kawasaki S1 250 Cafe Racer - The Beginning
We have been asked to make a Cafe racer from a early 70's Kawasaki S1 250 (a drum braked KH250)
The owner Neil has bought the bike in a poor state as a basis for a cafe styled bike and has give us the bike to create his vision.
We have had the bike for a while now but am only just getting to post the details so I will just post the before pic's to start with.
Neil brought us the bike almost in one lump ( I have lost the first complete pic's ) and we stripped it down ready for the mods and restoration.
The fork tube have been sent for re-chroming, the wheels are been rebuilt by Jeff Holt at KB Wheels in Bolton, all zinc plating and chroming sorted by Leigh metal polishers in Swinton, painting, inspiration, hard work and engineering will be by us.
---