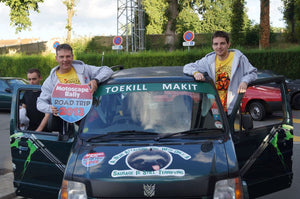 Johnny Cab - Europe Rally Completed
Well what can I say we had a fantastic trip, a great adventure. 
We even brought home the silverware!
Here are a few pic's.
The start of the rally was in St Omer, France. See above!
Taking the Johnny Cab round the Nurbergring track (in about 18 min's) we actually passed one car!
on top of the stelvio pass
A nice view over the Rhine
looking at Austria from Liechtenstein.
We did it! Martyn and myself at the winners presentation in Prague.
---