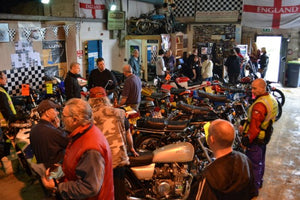 Pitstop Open Day May 2011
Well, the day went well.
Thank you to everyone that came, I hope you had a good day.
A big thanks to the following who made the day a sucess: Tony Richards - specialist photographer, Snake skin Tattoo's, Brian Campion - hard work, Yvonne, Michelle and Martyn - organising.
I have just posted a selection of the pictures that Martyn took and will add to later.
Brian's creation - to be named soon (His name is Bwyan , as in "Life of Brian")
My new 50 year old toy (Berkley)
Bikesmart Motorcycle training's stand.
Sample of Air brush work - Air 2 tank.
Catering department
Snake hard at work on Ian from Bikesmart.
Big Ron's Chopper!
A close up of Ron's Harley
Rick explains something
Is this Honda's latest Pan-euro-cub?
They may catch on
Rick's very nice B40
Is there something in them boxes?
Tony Richards hiding again. (fourtoes photography)
My pair of X7's ready for a youtube film.
For sale for £1995 if you fancy it.
My new showroom setup.
Vi gets that first Tatt (she waited 70 years)
Robs z650 - after our rebuild.
---