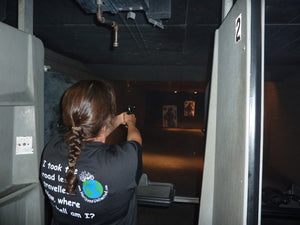 Doing what the locals do
Latest from Bruce:
When in Rome....
Shoot things :-)
Down in Virginia, after some very wet weather in Pennsylvania, her Dianse gear is not as good as my Hein Gericke stuff.
Went shooting with some friends, Barbara and Hal. Hanging out, drinking beer, going the beach and having a rest from the road.
After an easy border crossing at Cornwall with only a 10 minute interview we rode through the New England states (Vermont, New Hampshire, Maine and Massachusetts , some great roads and met some really nice Canadians in Conway (yes, they have no originality to names of towns here) before heading south (at last) via Woodstock (yes that one) were the tent came out again.
---