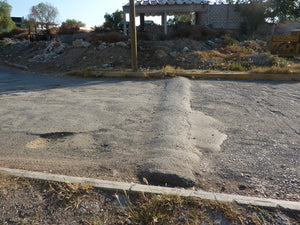 Bruce Falling Over in Mexico
(Notes taken from Bruce's email)
Some notes on driving in Mexico.
Petrol :- The oil and petrol business is state owned, there is one brand of fuel, Pemex. The price is the same every where in the country, even on the toll roads. Octane is variable, 87-92 
Topes  :- The speed bumps from hell. There are two types. Most are similar to ours, but not as smooth or small. They are sometimes sign posted and sometimes not, when you hit one at 50-60 miles an hour on a main highway you learn to slow down more near villages. The other type are lines of small metal lumps, semi-spheres, that will send the wheels every where if not taken slowly, best taken by lining up the wheels and going over a single one.
We have hooked up with 3 Americans who are touring Mexico for a month. Jim (BMW R1100GS), Gavin (BMW F800), Tony (KTM 990).
The following sequence of events had a lot to do with the heat, attempting a 350 mile day, riding with strangers and dehydration. The previous nights beer and tequila probably also had a bearing on it.
We had taken some back roads to avoid a city, and I use the term road in a loose sense, there may well have been some tarmac between the holes. As we passed through an intersection in a small town the traffic lights seemed to be ignored by the locals, Jim went on green and I thought he was going to a Pemex, except he saw the lights go red again and stopped, he has ABS, I don't. I instinctively used the front brake, locked it, the road was dusty, and slid into his right pannier. It was a slow bump but enough to make me lose my balance and I had to let the bike go down to my right.
There was a crowd of locals staring at us even before I did this, I should have done a bow.
The only damage to my bike was a crack in the front mud guard, the solid panniers stopped it hitting the floor. Jim looked at his pannier and suggested I do a better job of polishing it next time.
I think you can guess what happened next.
Half an hour later, leaving another town we started to pick up speed. Then Jim hit the brakes to avoid another sudden topas, once again I locked the front, the bike slid and I recovered but was still going 10 or 15 mph as I tried to dive right. I felt a moment of relief as my front missed Jim, but then my pannier hit his. Everyone thought I was going down properly this time as the bike weaved everywhere and I struggled to stay up and miss a truck which was parked in front of the topas warning sign. I stopped and just sat there bemused for a minute.
This time I had smashed Jim's bike hard, and bent some brackets taking off his pannier, mine was dinted a bit. Later I asked him if I had polished it properly this time.
For some reason, no one wanted to ride in front of me after that.
---