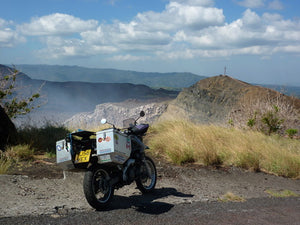 Bruce and Jeans Latest Update
Taken directly from Bruce's email:
Wow, was it Guatemala last time I emailed you ?
Now stretched out on a hammock in San Gil, Colombia waiting to see when the road to Cartagena opens again (another landslide last night), or if we should change plans and route.
So, summary. (sheds load more happened, but here are some bits)

Guatemala
A weeks Spanish lessons in Quetzeltenango.
New tyres and oil/filter change in Guatemala City.
Guatemala is beautiful and I encourage everyone to visit,


El Salvador
A few days of being beach bums at El Tunco, a surfers paradise.


Honduras
A border crossing that in theory should have been a nightmare.
In El Salvador we were "met" by some really pushy helpers at the gas station 3k from the border.
I kept telling them we didn't need their help, but they were persistent and followed us to the border in their truck.
When we got to the border we were surrounded by more and in a moment of weakness I selected the original one and followed him (my intention was just to give him $5 to keep the others at bay).
Jean thought he was dodgy and refused to follow so I had to back pedal the bike and tell the helper to forget it.
He started to ask me who wore the trousers, I said it was Jean.
He and his friends followed us around for an hour, wasting their own time as we dealt with all the paper work ourselves (after all we had done the same process since Mexico on our own). Our simple Spanish is now good enough to humour the officials, especially when the helpers started to tell us what forms the customs woman would give us, I told them in Spanish that "She has a mouth of her own".
The best moment was when a group of them followed us into a small cramped photocopy shop and pointed at the photocopier saying "photocopier... photocopier", Jean snapped, and giving up on the polite ''No gracias senors" which had no effect over the previous hour, finally turned round and told them to F*&K Off :-)
They then started to argue amongst them selves and Jean heard them calling us rubbish and other names in Spanish, so I rounded on them and let them know (in Spanish) we understood what they were saying, that finally got rid of them.
In all it only took us 2 hours to cross (slightly over average).
We are glad we did not use them as we have met a few people since who have been totally tipped off.
It only costs $35 to get a bike into Honduras, we met 1 guy who had been fleeced for $140, and 2 who had paid them $100 each.
Now when we see any I just say "No" loudly and ride through them :-)


Nicaragua
Volcano visit
Also stopped in a town, Estelli, just as they were starting a festival of horses. The town centre was shut down from 14:00 to allow the processions and partying. It was an unusual sight seeing cowboys getting their horses to dance to disco music.


Costa Rica
A USA state in waiting, but we met some Canadians who insisted we stayed with them (December 23rd) at their holiday home in the jungle over looking the Pacific. That included a 5km muddy dirt track, which we are getting confident now) and being awoken at 0530 by junge noises and howler monkeys.
We then had an hours yoga lessons before heading to Panama for Xmas.


Panama
Another USA state in waiting, so much so that they use the dollar, however it does have the cheapest beer in Centro America at 50c (in the bars)! :-)
Xmas with Norman and Bubba the monkey, a great rest over the holiday period with an ex-pt who finds bikers and invites them to stay. Bubba, cute though he is, does poo and wee on you though.
We got stuck in Panama City, over New Year, waiting to fly the bikes to Colombia. The canal is interesting though.
Also lots of other bikes passing through, as the road ends here (well, ok, 250kms down the road in the Darien jungle.


Colombia
We arrived, the bikes didn't.
All sorted now, and after the hassle and cost of getting them we hit the road. Which is now shut due to land slides. And if the land slides don't get you, the drivers will. They are the worst we have come across so far.
It is common on the mountain roads to overtake on blind bends, and stay on the wrong side around the corner, a game of chicken often follows. They will also try and overtake you when in a line of traffic and "bully" you to move over, and I won't be bullied, so I find my self kicking out at the cars as I still have no horn.
---