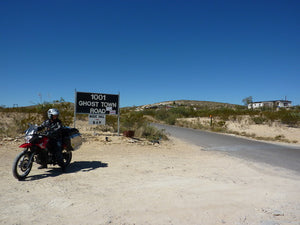 Bruce and Jean Hit Mexico
The following update is directly from the last email:
Miles done - 5668
Oil Change - 1
Gear Lever used - 1
Chain adjustment - 1 (yes 1 in over 5k miles)
Bikes Washed - 0
Money spent - yes
Fuses used - about 10
We are about to cross to lands unknown.
Recently we have ridden the best roads in Texas, all near Big Bend National Park. (the 118 and 170 are superb)
We have drunk beer with Ghosts, drank in bars from Star Wars, and stood (and camped) at the Rio Grande, looking at Mexicans.
Bikes seem OK, we certainly are.
Buying some insurance today, the guy asked us if we had been shown many guns. We told him only one or two small ones.
He then (with a smile) pulled out an assault rifle, with extra clip attached, and asked if anything like that !
America, don't you just love it :-)
---