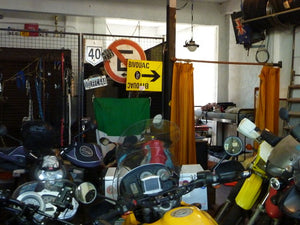 Bruce and Jean have landed in Europe
Thats two continents down, at least one to go. No more bikes have fallen over recently.
It was a quiet week in Buenos Aires, especially with me limping everywhere.
We spent most of the week sleeping and socialising in the garage at Dakar Motors, who have a workshop with a 'hostel' attached.
Basic, but functional, and shared with other bikers and travelers.
We managed to fill one night, along with about 40,000 others, at an Iron Maiden stadium concert.
The next few days were taken up with arranging to fly the bikes to Madrid and running around drawing large sums of money from all our bank accounts as the freight companies would only deal in cash.
This of course set alarm bells off at the bank and our cards got blocked.
We last saw the bikes on Monday, rumour has it we may get to see them this weekend in Madrid.
We made the effort to put some weight back on by eating steak, a lot of it. And I can finally say that the best steak of the trip has been here, a whole side shared between four of us.
We finally flew into Madrid, and started the fun and games getting the bikes out of the warehouse, only 5 hours this time.
And finally we started the last leg home.... via southern Spain, and France. Looks like we will miss the open day at Pitstop (again)... sorry tony :-(
If anyone wants to see the full story, it is all written up at http://www.horizonsunlimited.com/tstories/porter/
The Americas by numbers
Distance = 21571 miles/ 34800 kms
Countries visited = 16
Punctures = Zero / zilch / none / nada
Oil Changes = 4 per bike
Chains changed = None
Tyres = 2 rear / 1 front (Both bikes)
Extra tools bought/acquired = 1 large spanner, 1 electrical wire stripper/cutter, 1 electric tyre pump
Breakdowns due to electrical problems = 3 (Bruce)
Broken suspension = 1 (Jean), rear shock
Dropping/Crashing Bike = 5 (Bruce) , 3 Jean
Injuries, Bruce = 1, sprained ankle from most recent crash on roundabout.
Injuries, Jean = 1, dog bit leg in Bolivia.
Hospital treatment = 1 (Jean) in Peru, persistent intestinal infection.
Items of new clothing bought / acquired = 4 (Jean), 5 (Bruce)
Items of clothing thrown away = 4 (Jean), 4 (Bruce)
Most bulky yet rarely used item = Coleman petrol stove.
Penguins seen = 1000's
---